Product Description
3.4oz Super Sized Bottle.
Considered to be the Liquid Gold of the Caribbean, our 100% pure Haitian Black Castor Oil (L'Huile De Ricin/Lwil Maskriti) promotes thick, shiny and long hair. Loaded with omega fatty acids (3,6,9) and Vitamin E, our intense moisturizing oil soothes muscle aches, and fading stretch marks naturally. No other oil has this composition.
Infused with organic rosemary peppermint essential oils blend, to wake up hair follicles, promote sprouting, denser-looking hair, and soften skin while providing a cooling sensation.
Great For:
Promote hair growth
Combating alopecia
Reviving the skin
Energizing the mind
100% Natural Ingredients – Separation is natural; Shake Well Before Use.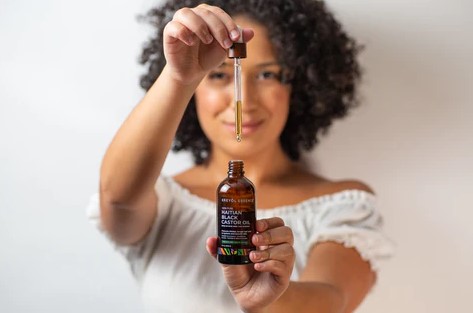 Purity Pledge
Kreyòl Essence promises to provide you with the purest and most authentic Black Castor Oil, hand-crafted from our farm in Haiti. We roast and gently crush the castor seeds, hand extract the oil and screen filter without refining. This ensures the retention of up to 90% Ricinoleic acid, delivering the oil's intense healing and moisturizing properties. No other oil has this composition.