As announced last week, we launched "Intermediation Service for HEALTH & BEAUTY EXPO, the Japanese famous B2B Marketplace".
(New Service Page)
https://herbaroma-trade.com/intermediation-service-for-health-beauty-expo-japanese-famous-b2b-marketplace/
As soon as we announced, we got many questions from global suppliers who are interested in Japanese market. So we decided to send email to answer the questions on weekly basis.
Today we will explain the categories HEALTH & BEAUTY EXPO has on the Top Page because we got many inquiries on this.
HEALTH & BEAUTY EXPO has 4 parent categories and 4 child categories for each parent category on the Top Page.
If you go to Top Page of HEALTH & BEAUTY EXPO ( https://www.e-expo.net/ ), you can see the below image and it shows category.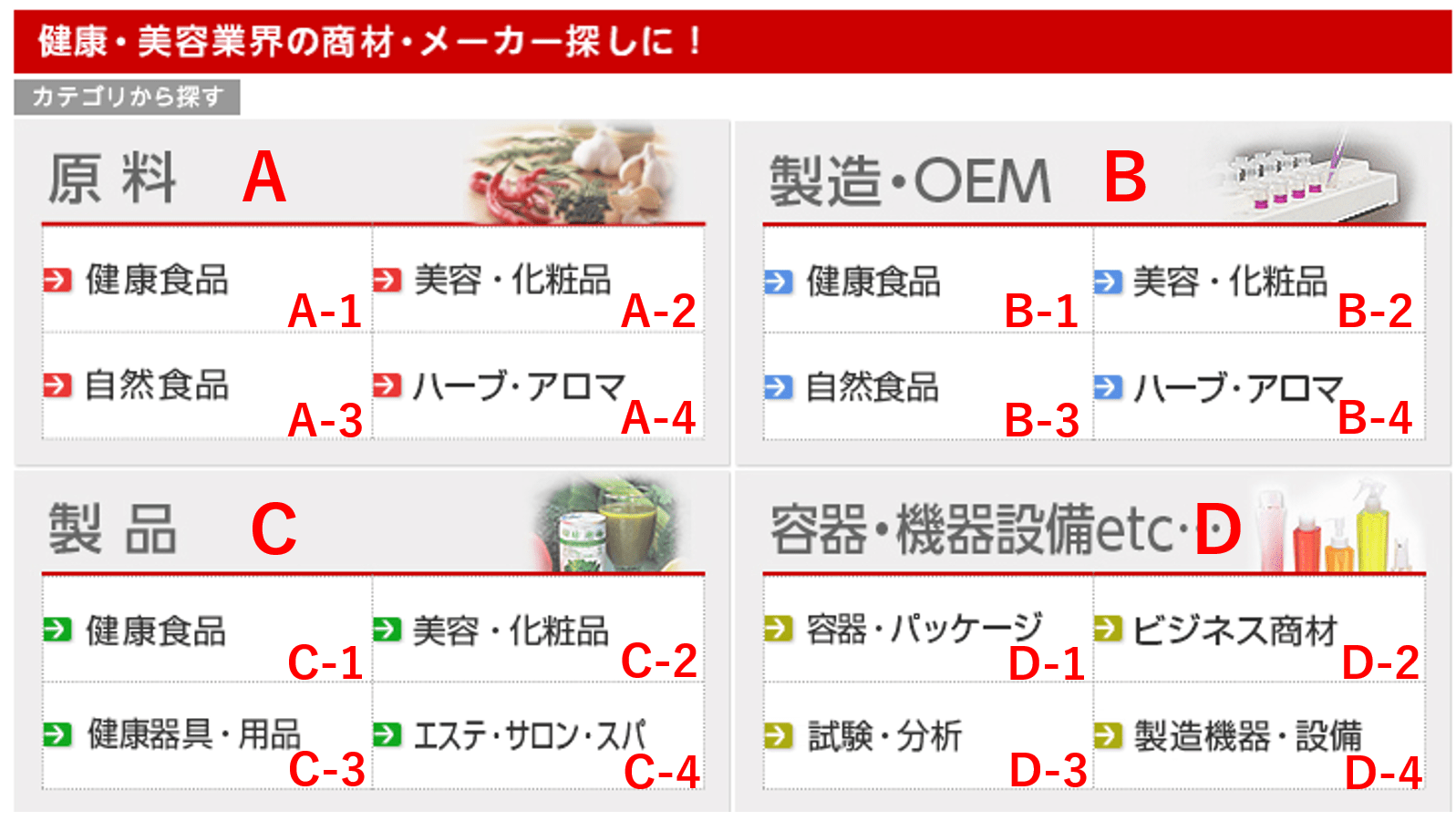 A: Raw Material
A-1: Healthy Food
A-2: Beauty / Cosmetics
A-3: Natural Food
A-4: Herb / Aroma
B: Manufacturing/ OEM
B-1: Healthy Food
B-2: Beauty / Cosmetics
B-3: Natural Food
B-4: Herb / Aroma
C: Product
C-1: Healthy Food
C-2: Beauty / Cosmetics
C-3: Health appliances
C-4: Esthetic Salon / Spa
D: Package / Equipment
D-1: Bottle / Package
D-2: Business merchandise
D-3:Testing / Ananysis
D-4: Manufactuing Equipment
Our new service would work for your business development in Japan if you find the category fit to your business.
About HEALTH & BEAUTY EXPO:
[Service content] B2B business matching service for Japanese Health & Beauty industry
[URL] https://www.e-expo.net/
[Service start] October 2005
[Monthly Access] 150,000UU (600,000PV)
[Number of registered products] 31,180 (as of June 21, 2023)
[Number of exhibitors] 1120 companies
[Users] Japanese buyers, Raw material manufacturers, Beauty & Medical institutions, Product manufacturers, Equipment manufacturers, fitness gyms, other health & beauty related organizations
We are looking forward to serving you this new service!
Please feel free to contact us if you have any questions.
Best regards,
Satoshi Kayamori
Founder & CEO, Herbal Square Ltd.
E:  satoshi.kayamori@herbaroma-trade.com
URL: https://herbaroma-trade.com
Let's create the world filled with herbal enjoyment together