Product Description
How good can your tea experience really be if you can't stay home to steep the leaves? Pretty darn good. This travel infuser mug lets you bring your high brow tea experience to your morning commute, your evening dog walk, your hair appointment, and wherever else your day takes you.
Organic Bamboo and High-grade Stainless Steel Materials
Infuse tea on-the-go
Double-walled vacuum insulated construction keeps contents hot or cold longer
Exterior wall stays cool to the touch
Stainless Steel version includes detachable strainer and infuser for your loose leaf tea
Hand wash only / Not for use with boiling water
Stainless Steel holds 17 oz (approximately 9.5″ high).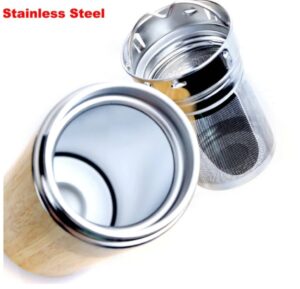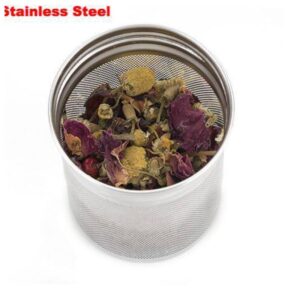 Watch the laser engraving here – we do this at our Seattle HQ:
Quantities
We sell loose leaf tea in the following increments: sample 1/2 ounce, 2 ounces, 4 ounces, 8 ounces and 1 lb (16 ounces). We sell our pyramid bagged tea in the following increments: single sachet in mylar pouch, 15 pack in reusable tin, and 50 pack in resealable mylar pouch.
Shipping & Packaging
Shipping options and rates will be presented at checkout prior to payment.
All loose leaf teas are packaged together (e.g., if you order 4-ounces we will send you a 4 oz package of fresh loose leaf tea).
All loose leaf teas are packaged in heat sealed food grade mylar pouches.
All 15 packs of tea bags are packaged in sealed food grade tea tins. 50 packs of teas are packaged in heat sealed mylar pouches.