Product Description
HVAC System Scent Machine for Large Area, LCD Screen Touch and WIFI Control
5000AF Aroma diffuser machine is touch control machine. Advanced physical atomization technology is adopted to convert the liquid aroma oil into aroma scent, and the aroma scent is rapidly delivered to the air through the sub-stream , it can maximum improve the aroma coverage efficiency and fragrance concentration .The equipment is built-in the air fan and it can be used for external settings directly or connecting the central air-conditioner.
It is easy to replace the essential oil,customers can replace the fragrance flavor according to new themes and seasons. The intelligent valve controller can adjust fragrance concentration in the different environment to meet customer requirements.Concentration settings and internal 24 hours/1 week timer of ensure system can adjust fragrance concentration for different sites,encryption program on control panel can lock the equipment operating system,make it more safe.
IOT Intelligent Control, Perfect Combination of Fragrance and Technology Tonemy leads the fragrance industry to a new height, our R&D team successively combine WIFI+APP smart system, 5G smart system, Bluetooth+IOT smart with fragrance diffuser machine nearly a year, realize multi-channel remote IOT control of fragrance diffusion device, thereby reducing equipment maintenance costs, improving fragrance efficiency, using science to mining fragrance business secrets.
1000ml 5000CBM new air freshener scent oil diffuser machine,with LCD screen touch button control, working with air conditioner also can land standing blowing straightly. If you want mobile remote control model please choose the WIFI model,$5/unit difference.
Parameter:
| | |
| --- | --- |
| Model | TM-5000AF |
| Panel | White, black, OEM your own Pattern |
| Voltage | 12V |
| Noise | <25dba |
| Weight | 8.6KG |
| Package | W280xD210xH410mm |
| power | 14W |
| Capacity | 500ml Aluminium Bottle |
| Oil Consumption | 4.5ml/h±5%( Continual Working / Hour ) |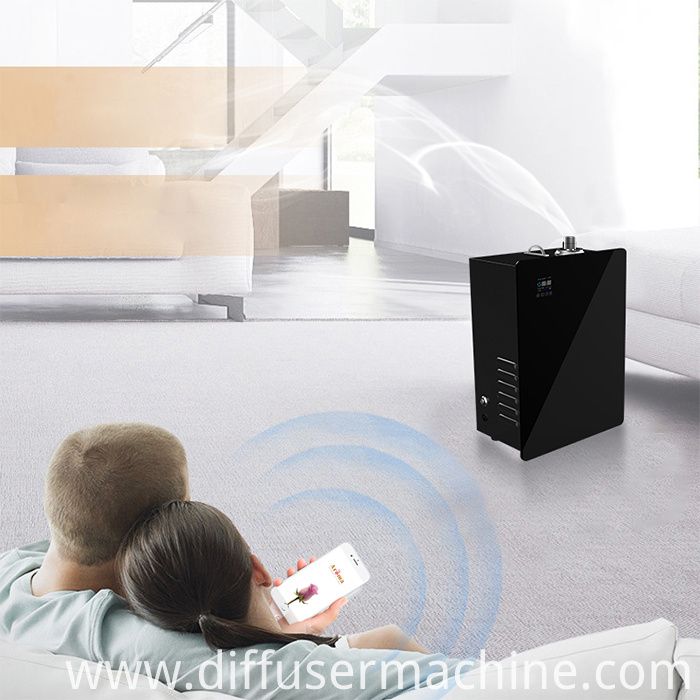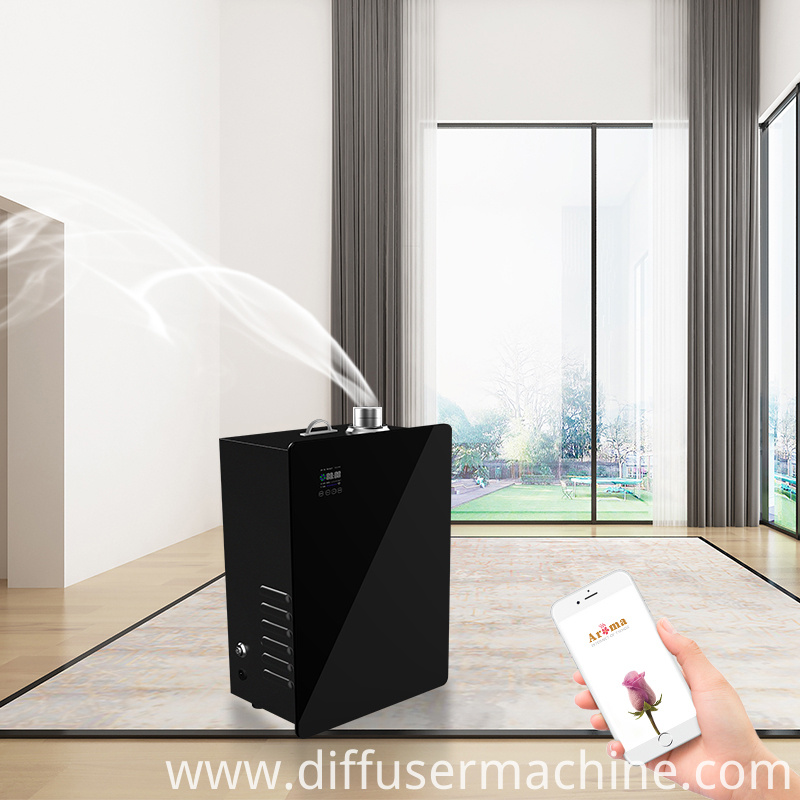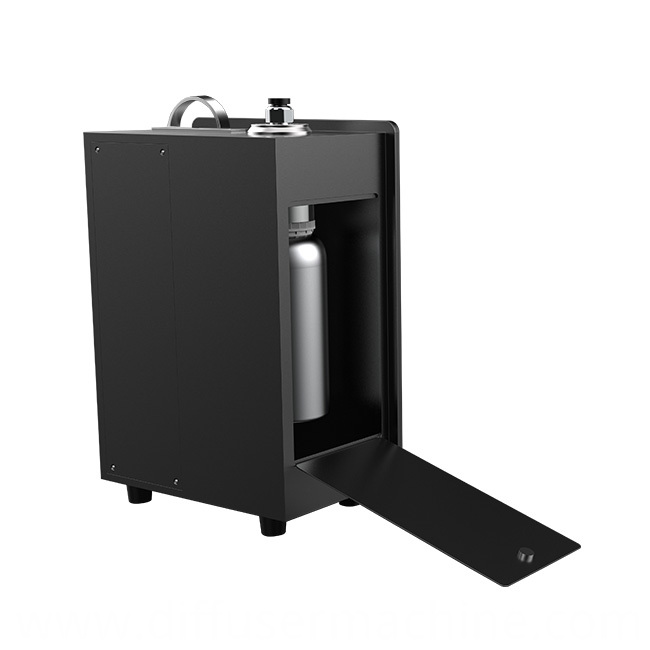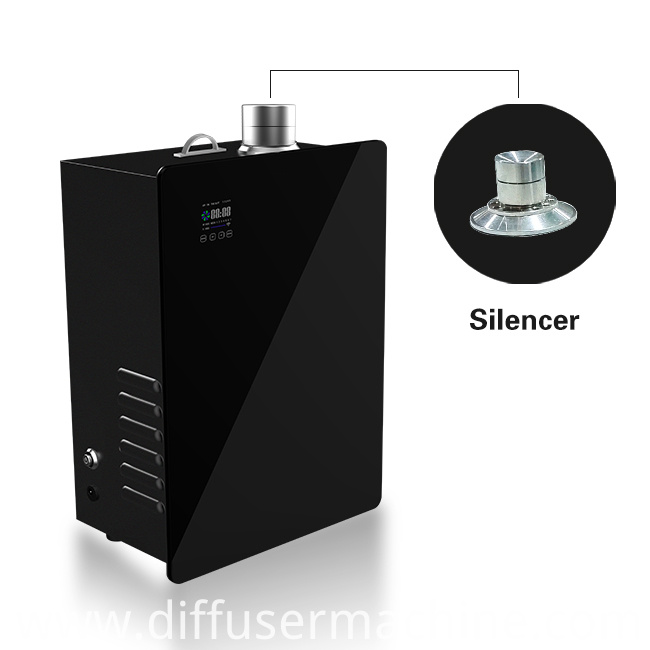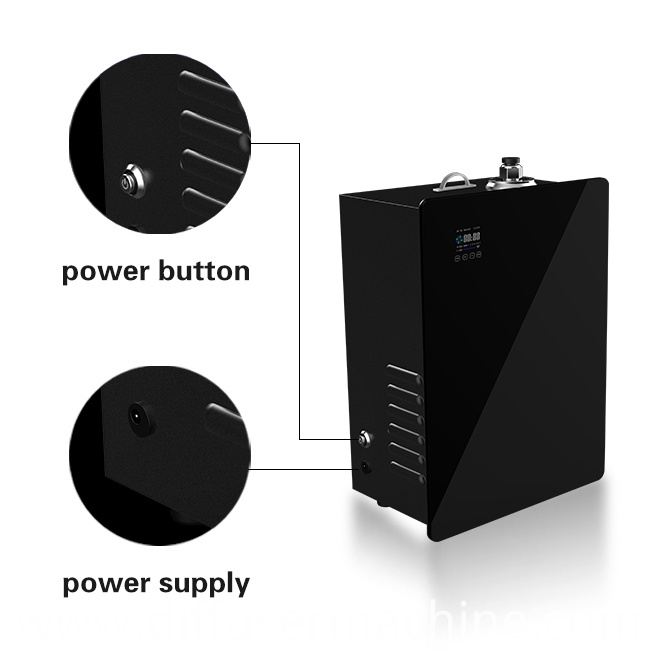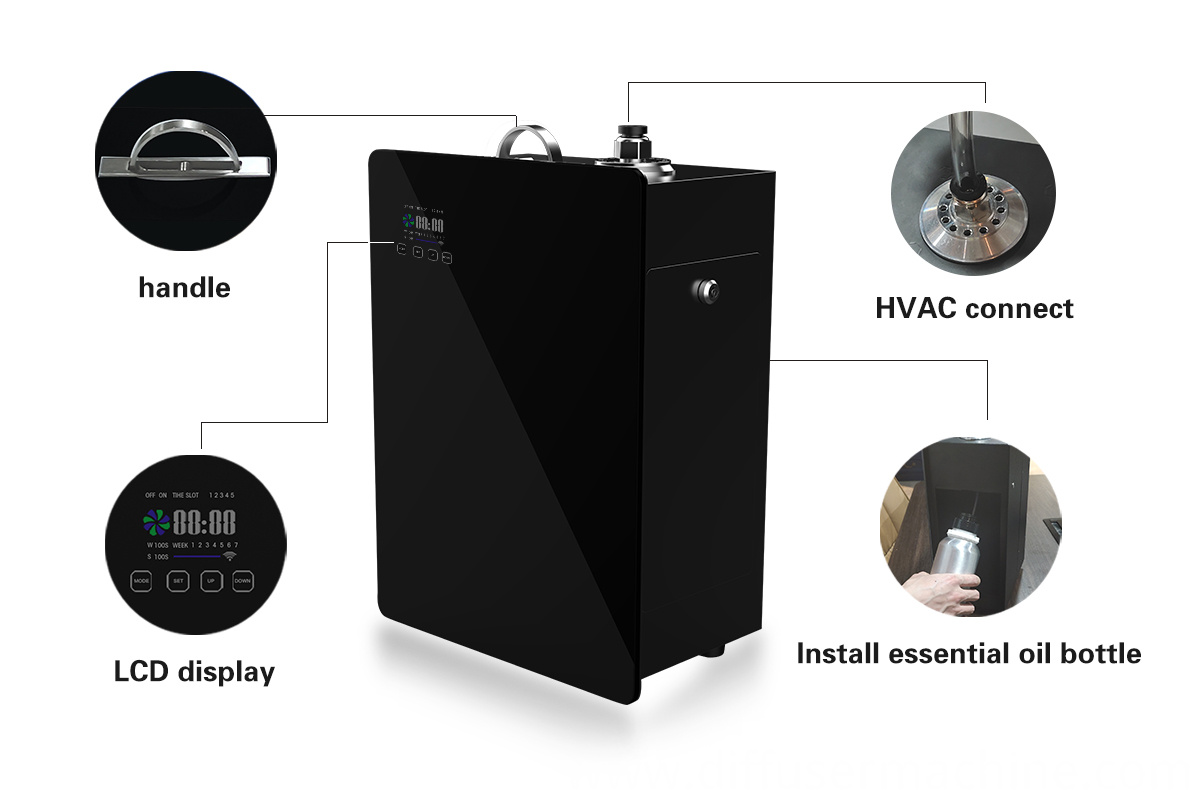 Features:
1. LCD touch screen to set.
2. High precision aluminum alloy nano atomization head.
3. High qulity pump with long life.
4. Intelligent microcomputer control, internally installed protection device,with memory function.
5. 5 Cvcle frequency settings.Set work time from Monday to Sunday. Intelligent 24 hours working time setting.
6. Built-in filter cotton and mute cotton,excellent mute effect .
7.Built-in intelligent microcomputer,with the function of power cut memory.
8. Built-in fan for more better aroma diffusion.
9. Working with HAVC, also blow straight with conversion head
10. The front panel is acrylic,the color and logo can be customized.
Installation Instructions:
Hotel Lobby; Company; Exhibition hall;Library; Auto 4S shop; Commercial Building; Cinema; Airport; Entertainment, High-end shopping malls, High-end office buildings, Medical, Beauty.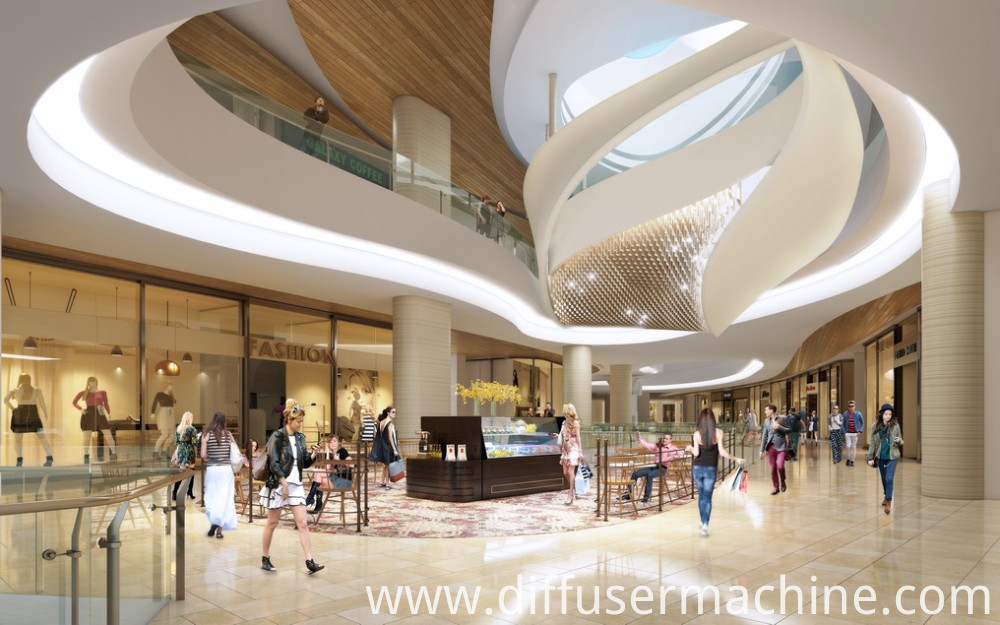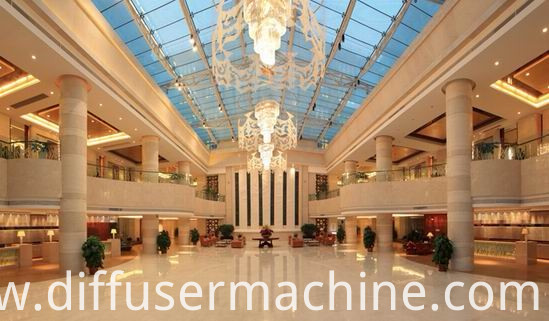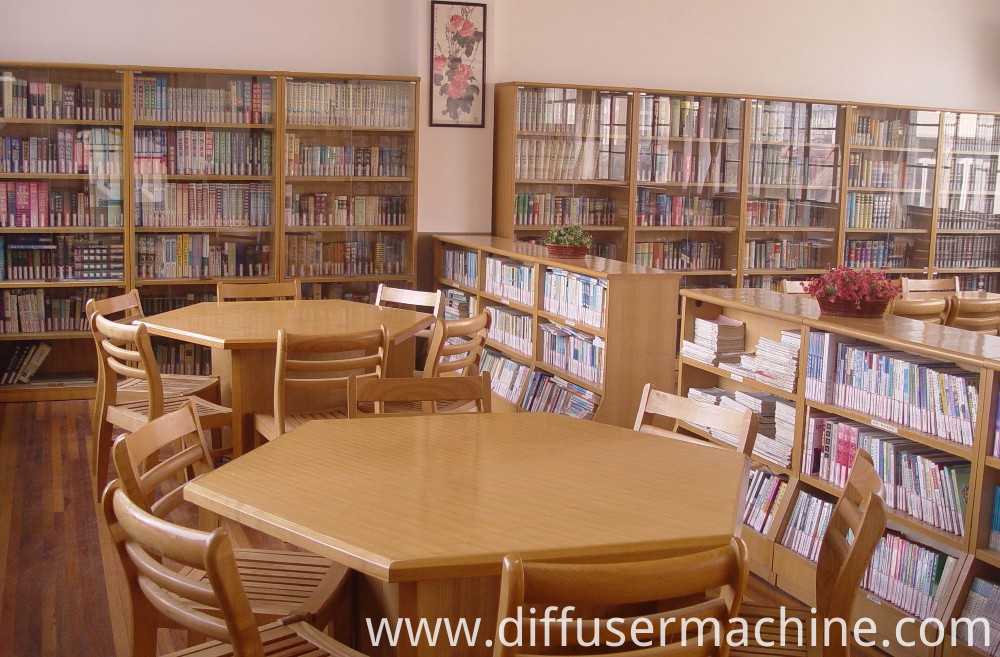 Packing
All of our items are unique packing in hard paper ,with a full set of internal allocation ,including instruction manual,power cord,atomizing core,stainless steel adapter,Essential oil bottle in 1000ML ,PVC link pipe and so on . For the carton packing ,we can do according to customer's requirements.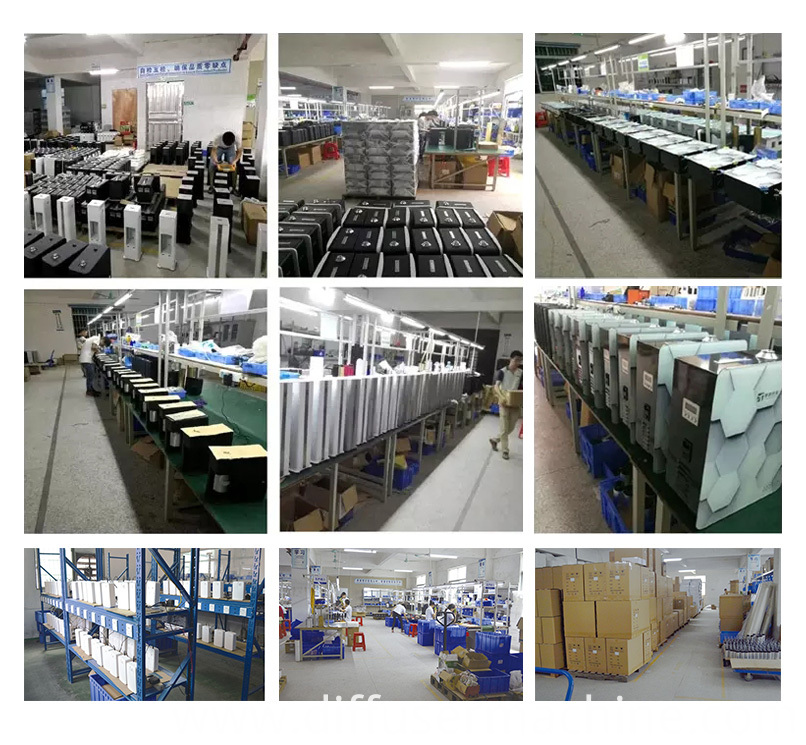 Delivery
We always have stock for those types, sample order is warmly welcome !We can ship the order within 48 hours after payment if the quantity is less than 50 sets. And if the orderqty is more than 100 sets , 1month for production time .We can ship by Express (DHL,FEDEX ,TNT ), by air cargo or by sea, depends on the order quantity.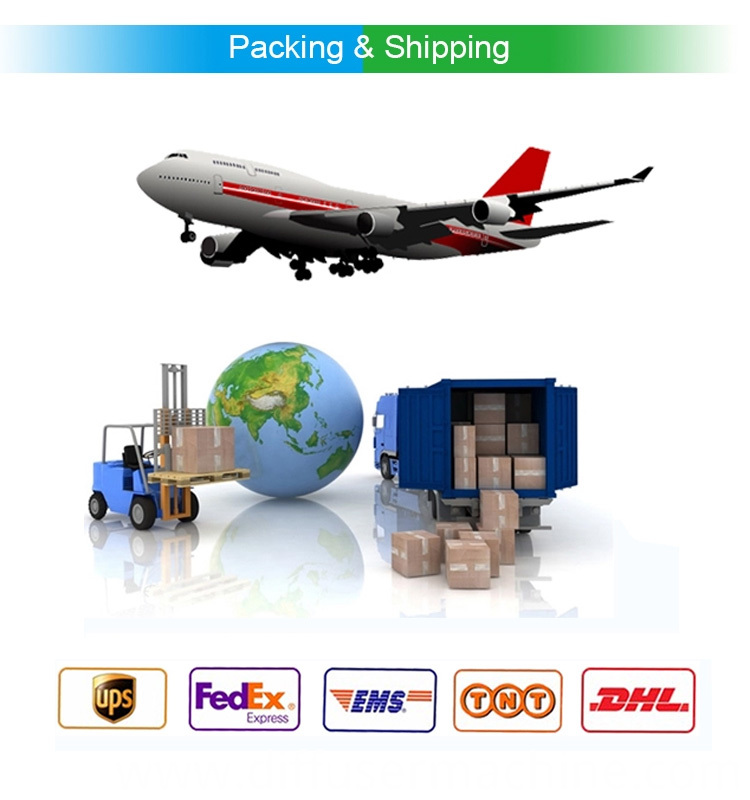 Q1. why choose the product of your company?
Our company's equipments adopt the Japanese import air pump,the spray head adopts the atomized spray nozzle,The new machine adopts
anti-corrosive steel and toughened glass,with the advantage of the beautiful appearance, long service life,high amount of
atomization and wide coverage.
Q2.How to maintain the atomized head parts ?
A New atomized head part will be attached for replacement.
If the atomized head part is blocked,you can place the new one and put the old one in the alcohol to decompose the dirt.It's
better for the atomized parts be replaced once a month.
Q3 How long for warranty period ?
All our products are 1 year guaranteed .You can contact with us in case any parts are damaged ,we'll work out the resolution at
our soonest.
Q4. Is your essential oil harmful to health ?
No ,all our essential oils are refined and extracted in strict accordance with the standards of the fragrance association , and we
passed the ROHS (International Environmental Directives) and REACH (163 tests on human hazardous substances).
Q5: Is it possible to buy samples to test before a MOQ order ?
Of course you can.
Q6. Is your essential oil able to be refilled? Is it harmful to people?
Yes, the essential oil can be refilled. But only PURE Essential oil can be used,water can not be add into the machine. It is not
harmful to people.
Q7. Is your Electric Scent Diffuser able to set work ?
Yes, you can set working intervals and stop intervals, like 30 seconds on and 30 seconds off from 9 am to 6 pm everyday.
Q8. How to clean the machine?
1. Take out the bottle.
2. Fill the alcohol with the bottle and clean it.
3. Refill the fresh alcohol and install it to the machine, open the power to work.
4. After 10 minutes and it is finished cleaning, turn off.5. Put the essential oil bottle inside the machine, close it well.
Product Categories : HVAC Scent Diffusion System