Product Description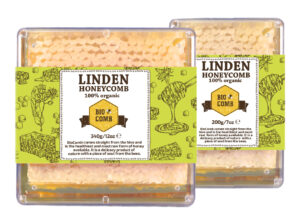 Product Information
BioComb Linden comes straight from the hive and is the healthiest and most raw form of honey available. Produced in one of the cleanest mountain regions in Bulgaria and packaged in strictly controlled process this product is a delicacy of nature with a piece of soul from the amazing bees.
Product packaging range: 200g and 340g
| | | | |
| --- | --- | --- | --- |
| Fully natural superfood with all of the enzymes, pollens, vitamins and minerals. | The purest and most natural form of honey available, directly from the honeybee hive. | Harvested from clean mountain regions, hand cut and boxed with no additional processing. | A delicacy product of nature with a piece of soul from the bees. |
Health Information
Linden honey's complex chemical composition causes unsurpassed healing properties. It contains about 400 substances and compounds, which are vital to man for the full activity of the organism. Valuable advantage of the product is that it contains vitamins in a very good combination with other important substances, which leads to a healing effect of linden honey. In particular, it includes no less than 40 different micro-and macronutrients, such as potassium, calcium, copper, iodine, aluminum, nickel, phosphorus, chlorine, magnesium, manganese, zinc, cobalt, etc.