Product Description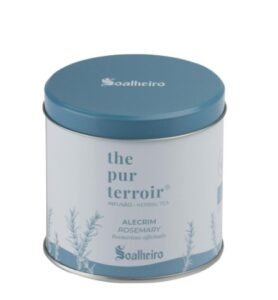 Rosmarinus officinalis, commonly known as Rosemary, is a member of the mint family. The fragrant leaves of this shrub have been used for culinary and therapeutic purposes for centuries across many cultures.
HOW DOES IT TASTE?
Known for its powerful fragrance, Rosemary has strong pine and floral aromas. Infusions are smooth, with notes of citrus, sage, and even mint, followed by a slight peppery finish.
GOOD IF YOU ARE FEELING
Restless and rumbly. Rosemary can calm stress while improving focus and cognitive function. It is also good for your digestive system, so try a cup when you need peace of body and mind.
HOW IT IS MADE
Organically cultivated plants originate in our nursery and are selected from the best adapted cultivars. Harvesting is done by hand near the flowering stage of the plant cycle (when essential oil concentration is higher). Leaves are dried at low temperatures, never exceeding 25ºC. The best leaves are selected by hand.
HOW TO PREPARE
Combine 2 tablespoons of Rosemary leaves with 1 litre of 85°C water in your vessel of choice (tea strainer, tea pot, or even right into the mug). Let the leaves steep for 5-7 minutes, depending on how strong you like your tea.
HEALTH BENEFITS
Rosemary is believed to benefit cognitive function, stimulating the mind, improving memory, and even boosting your mood. Rich in antioxidants, anti-inflammatory, and antimicrobial compounds, Rosemary may also aid the immune system and the digestive tract.
CULINARY USE
The complex aromatics of Rosemary make it a great complement for savoury dishes and the perfect infusion for olive oil. It is commonly used in soups, casseroles, and even freshly baked breads. Rosemary is also excellent with a variety of meats, such as steak, poultry, and pork, or with vegetable and grain dishes.